The Technology Behind Rockliffe Hall's Award-Winning Spa and Hotel Experience: For-Sight's CRM and Marketing Automation Solution
When it comes to hotels like Rockliffe Hall, creating unforgettable guest experiences extends far beyond luxurious accommodations and top-notch amenities. It involves harnessing the power of data to truly understand guests' needs and desires and delivering personalised experiences that make them feel genuinely valued.
This is precisely where For-Sight's CRM and Marketing Automation Solution comes into play. And the outcome? A staggering 47% Increase in Average Room Revenue. Discover the transformative technology behind Rockliffe Hall's guest experience and the phenomenal revenue growth it has achieved.
About Rockliffe Hall
Rockliffe Hall is a five-star golf & spa hotel with an award-winning spa, championship golf course and exceptional food and drink. Set within 375 acres of stunning English countryside in County Durham, the hotel offers luxurious rooms and suites, a 50,000-square-foot spa, an 18-hole championship golf course, and award-winning dining.
This year, Rockliffe Hall was shortlisted for the Cateys' Award in The Best Use of Technology category, showcasing its commitment to innovation and excellence.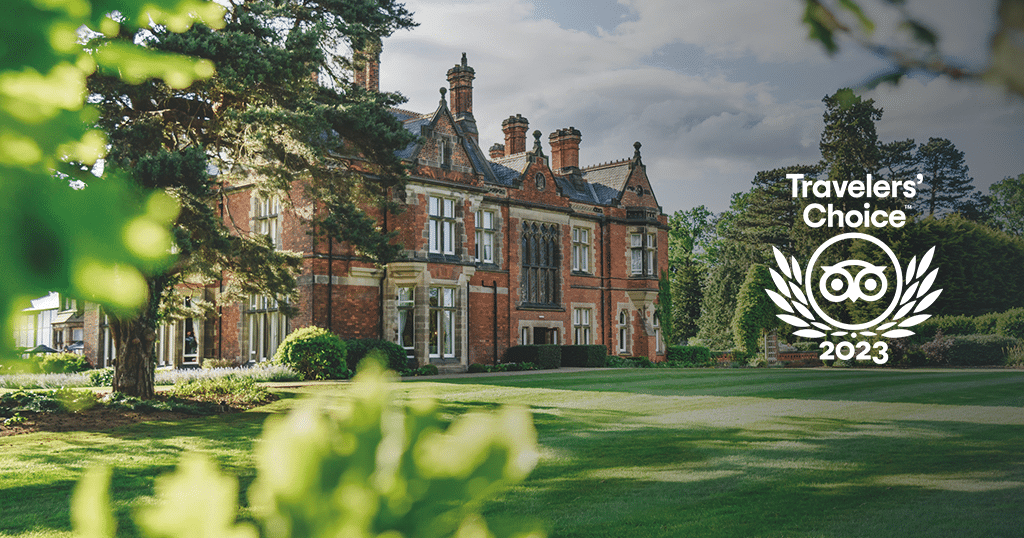 The Challenge
Need:
Customer Relationship Management (CRM) platform tailored to hospitality needs with

Marketing automation capabilities
Robust reporting

Ability to integrate with the property's stay and leisure existing systems
The Solution: For-Sight's CRM and Marketing Automation Solution
To better understand and serve their guests at Rockliffe Hall, the property turned to For-Sight's powerful CRM and Marketing Automation Solution.
With a wide range of rooms, restaurant services, and spa treatments on offer, Rockliffe Hall needed a comprehensive solution to leverage their first-party data and create personalised marketing campaigns that would drive direct bookings and revenue.
Since 2017, the For-Sight platform has provided Rockliffe Hall with a single source of truth for all their guest data, allowing them to gain a 360-degree view of their guests' preferences and behaviour. By using this data to personalise communication and marketing efforts, Rockliffe Hall has seen a significant increase in both revenue and customer satisfaction.
"When we went live with For-Sight, one of the main advantages was that For-Sight gave us the ability to segment our data and create targeted campaigns based on contacts engagement / stay parameters."

– Eva Clarke, Marketing Co-ordinator at Rockliffe Hall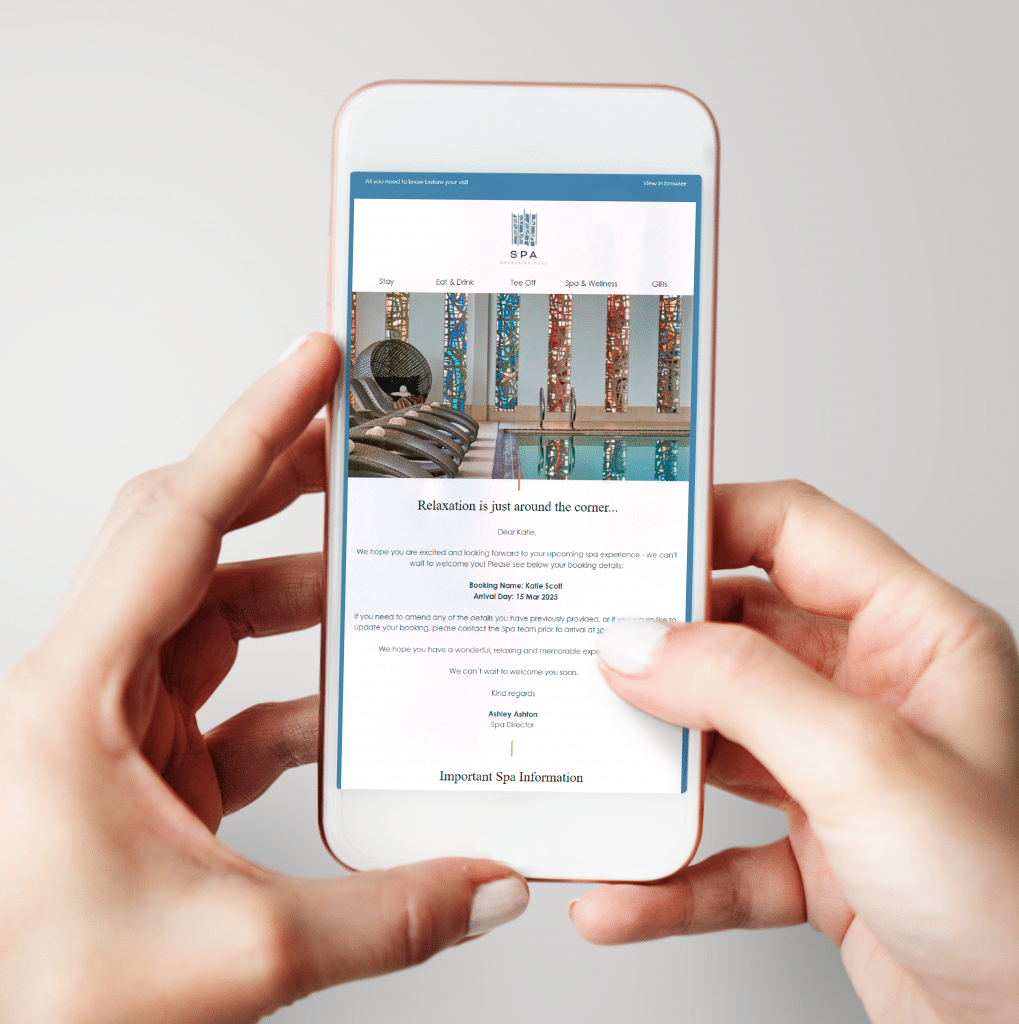 Image: Design of one Rockliffe Hall's triggered Spa pre-stay email [performance: unique open rate: 66%+ & click to open rate: 32%+. The marketing KPIs here are well above the industry average, according to Campaign Monitor research: open rate: 20.2% & click to open rate: 1.4%]
Benefits: Key Advantages of Using For-Sight Solutions
segmentation of guest data
advanced marketing automation
ultra personalised guest communication
robust and seamless reporting
integration: seamless integration with other key systems:
the support that comes with the solutions
"With regard to For-Sight, we find that the support team are fantastic, always willing to help and explain the system when we have queries / challenges."

– Eva Clarke, Marketing Co-ordinator at Rockliffe Hall
The Impact of Automated Pre-Stay Communications
Gone are the days of manual pre-stay communications at Rockliffe Hall. Since the launch of their automated Pre-Arrival email marketing campaigns in May 2021, the results have been nothing short of impressive. By comparing data from two years prior to the implementation (May 2019 to May 2021) with the two years since (May 2021 to May 2023), utilising For-Sight's CRM, the true impact of these campaigns has been unveiled.
And the results are impressive.
There has been a remarkable 47% increase in average room revenue, which can be attributed to the 37% increase in total revenue. These key metrics are easily accessible on For-Sight's CRM.
"The idea of the pre stay campaigns are to give guests an idea of the level of service and attention to detail they will receive when they stay. The emails set the tone of Rockliffe Hall and give relevant information about the resort to ensure that guests are fully informed of all of their spa / dining / leisure options before they arrive. This also gives us the chance to capture revenue opportunities before the guest is on resort. Another reason is that dining and spa in particular have limited availability once guests are here and telling them in advance to book these avoids any disappointment in what should be an amazing experience.

The campaigns are updated seasonally with regard to imagery and text.

We generally receive open rates of between 55-65% for the pre arrival campaigns and click to open rates of 30-35%.

We are in the process of really targeting our guests by rate code and tailoring each campaign accordingly depending on what is already included in their package. This will allow a really personal approach to their stay / spa experience at Rockliffe Hall."

Eva Clarke, Marketing Co-ordinator at Rockliffe Hall
A dynamic approach to email automation
Rockliffe Hall's marketing team has mastered guest experiences through their dynamic approach to email automation. Regular updates to campaign content throughout the year ensure personalised and relevant communications that keep guests engaged. With an impressive 29% of returning guests over the past two years, this dynamic strategy keeps content fresh and fosters loyalty. This approach also allows comparative analysis, unlocking valuable insights for ongoing enhancement.
While observing these remarkable achievements, it's important to recognise the potential influence of external factors such as the COVID-19 pandemic and inflation on the outcomes.
The Power of Combined Personalisation and Automation (to maximise impact and elevate the experience)
Rockliffe Hall has harnessed the full potential of For-Sight's automated functionalities to enhance their guest experience. By configuring automation rules in For-Sight, users provide the necessary information for the app to automatically send personalised emails to guests at the right time, including relevant details such as booking number, first name, and arrival date.
By integrating with their Spa system, Rockliffe Hall can create targeted automated spa marketing campaigns. A prime example is their campaign targeting "Guests with no treatment booked," which aims to enhance guest experiences and generate revenue by encouraging future guests to book a spa treatment. The campaign triggers are set to send the email one day after the guest's stay booking date.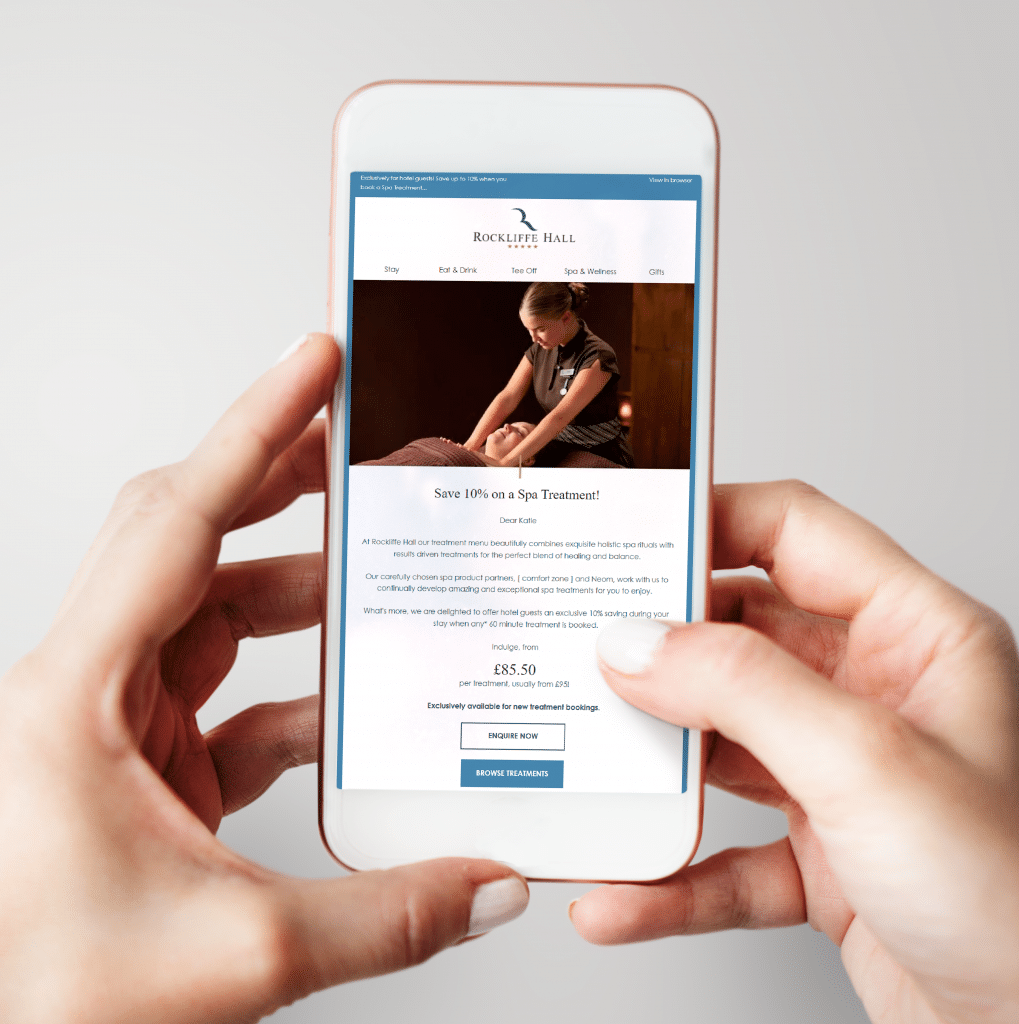 Results of the automated email going to guests with no treatment booked prior to arrival: 57%+ unique opens and 22%+ click-to-open rate (May 2023).
How does For-Sight work?
For-Sight unites Hotel technology systems to turn siloed guest data from the Property Management System (PMS) and other transactional systems into a central source of truth for each guest and their journey. Rockliffe Hall choose to connect three of their systems to For-Sight allowing the team to access a holistic view of each guest's interaction with the hotel.
This integration enables For-Sight to capture data such as booking history, marketing preferences, and stay patterns, allowing the hotel to create targeted marketing campaigns and personalise guest experiences. The marketing automation capabilities within For-Sight enable Rockliffe Hall to automate email campaigns, ensuring timely and relevant communications with their guests.
Additionally, the robust reporting feature within For-Sight provides Rockliffe Hall with insights into the effectiveness of their marketing efforts, enabling them to make data-driven decisions to improve their guest engagement and revenue.
In summary, Rockliffe Hall's success story demonstrates the immense potential of combining personalisation and automation in the hospitality sector. By utilising For-Sight's CRM and Marketing Automation Solution, Rockliffe Hall has optimised guest experiences, resulting in substantial revenue growth and guest loyalty. Their proactive approach to updating campaign content and utilising automation for targeted communications showcases their commitment to delivering tailored experiences. As the industry continues to evolve, Rockliffe Hall sets the benchmark for leveraging technology to maximise guest satisfaction and drive business success.
Our team of friendly experts specialise in hotel strategies. If you feel your hotel has untapped potential, schedule a call with us and discover how we can help you unlock it. Schedule a call here.
About ResDiary
Make every booking and service count
ResDiary is a flat-fee, online reservation system designed to help hospitality operators run a smooth service. Trusted by over 10,300 hospitality venues globally.
With ResDiary venues can amplify their online presence, and attract more diners, while paying ZERO commission on bookings. That's not all; venues are also backed-up by our market-leading table management software, payment features that reduce no-shows, and tools that drive more value from every service.
About Premier Software 
Premier Software is the UK's leading provider of spa management software, with over 20 years' experience perfecting solutions for the spa, wellness and leisure industries.