Snapshot of the staycation market
Staycations are not going anywhere in 2022! Our article Staycation 2021: Email Marketing Best Practice Advice has been one of our most popular blogs last year. Not surprisingly, the trends and predictions for domestic travel are again this year very optimistic. 
Trends
Since April 2021, 53% of Brits

have taken an overnight trip in the UK

, over double of overseas overnight trips in the same period (21%).

 

Between 2019 and 2021 the

interest

for the term 'travel UK' has increased by 140%, and 2022 seems to follow the trend. (Google Trends)

 
Predictions
In the UK, 41% of vacationers will plan to go to a

destination that is closer to home

for their next trip. (Deloitte)

 

58% of Brits

plan

on taking an overnight domestic trip in 2022, which means that over 30 million brits could holiday in the UK this year. 

 
Overnight domestic trip

intentions

in 2022 is the highest between July and September, especially for destinations such as: 

 
traditional coastal/seaside towns (24%), 

 

countryside or villages (19%) and 

 

rural coastlines (18%). (VisitBritain)

 
Between 2020 to 2029,

domestic tourism spending worldwide

is expected to increase by 80% (Statista).

 
The staycation demand is growing – but how can you take advantage of this opportunity to attract new guests and also retain them? 
Encouraging staycation bookings – and building loyalty!
Before marketing anything, every hospitality professional should strive to learn about guests' motivations and expectations. Identifying what your guests' key drivers are, is crucial if you want to stand out. 
Understanding what can actively engage your guests' attention = designing data-informed marketing campaigns that encourage bookings, restaurant reservations, upsells… You name your goals!  
Who are your staycation guests? – Are they families, friends, couples or singletons? What experience are your guests looking for? And ultimately – what can you offer to satisfy them? 
First, let's have a look at Brits' vacation motivations. 
2022 Guests' aspirations
HOW and WHY do guests travel? Here are 4 simple travel pleasures that consumers are most looking forward to in 2022 (Booking.com). Note that some of these will be easier to incorporate in your offering than others! 
Weather: "the simple pleasure of feeling the sun on their skin'' will improve travellers' mood and therefore be a factor when deciding their destination. This resonates with overnight domestic trip intentions as there is a predicted peak between July and September. 
Unfamiliar– 47 % of travellers are happy learning new and unfamiliar transportation systems when travelling. 
Scenery – 17% of travellers said that the scenery is what they're most looking forward to enjoying on their next trip. 
Anticipation – The pre-travel stage is a journey in itself and anticipation is what 17% of travellers are most excited about. 
Granting your guests' simple wishes
Travellers' expectations can be used to:  
drive your strategic approach throughout the guest's journey, 

 

craft your marketing message, 

 

guide your campaign design choices… 

 
There are various ways to showcase your property and make your offering inspiring. 
Let's take the example of 'anticipation'. The pre-stay stage of your guests' journey is an excellent opportunity to add value to the overall experience. Immerse your guest on day 1 using automated email marketing: 
A thank you email with a voucher for booking breakfast

 

An e-guide with all your local partners and special offers for your guests

 

An invite to follow your social media and share the experience about their stay (you could offer 10% off any amenities for stories and posts with #Ilovepropertyname)

 

A personalised upsell email. Having information about the guests can help you determine what they would like to add. 

 
Trends are great to get a general idea. But each property has the potential to attract very different profiles – this is where you should be looking at your OWN guest behaviour. To identify your staycation guests' key drivers, technology will help! 
Leverage technology and get a clear view on your guests' behaviour
All size hospitality businesses can perform data-informed marketing. But what does that look like in reality? 
Simply put, technology systems supporting your property can collect unique insight into guests, so you can add real value to your guest journey – and grow. All the systems supporting your property (: tech stack), individually deliver essential information about your guests: bookings, revenue, reviews…  
Having a clear view of your guests requires processing all of the information from the different tech suppliers that you have. If you aren't familiar yet with For-Sight's CRM, this is exactly what we do. If you don't have time to hunt for data, our platform collates all the data from your PMS and other transactional systems to give you a 360-degree view of your guests' behaviour – so you can act accordingly: 
❌ stop shouting in the dark – bye-bye offers and packages that don't perform sufficiently 
✔ have key information about your guests – hello meaningful targeted offers. 
For-Sight's Reporting Suite can also help you get the most from your data with: 
A

front desk report

with a view on

upcoming bookings, including the RFM categories and spotlight on the guests who still have an OTA email address

 

A

dashboard where

you can setup your own custom views using the widget library

 

A

guest profile report

that allows you to visualise your guests and bookings over a specific period of time.

 
And more key reports (

booking monitoring, rate code by location, the data quality report etc.)

!

 
The recent article on How to convert OTA email addresses into real guest emails – For-Sight is an excellent example of how data can help you achieve your guest loyalty goals. 
Designing successful staycation marketing campaigns
From GWI'S consumer trends research for 2022, designing marketing campaigns should 'inspire and nurture a sense of limitless possibilities'.  
Building engagement
We'll start by capturing the idea 'inspire and nurture': this is where you engage with your guests, using your marketing channels to provide value to your guests and future guests.  
There are various ways to reach to your guests, so is email marketing really worth it? Simply put, yes. 
In 2020, the average ROI of email marketing campaigns in the UK was over £35 for every £1 spent (Statista, 2021), making it one of the most effective messaging channels. See how our customer Crieff Hydro managed a huge ROI of £50 return for every £1 spent on For-Sight.   
99% of email users check their email every day and this is often the first thing people do online: 58% of users check their email before they check out social media (14%) or the news (5%) (optinmonster, 2022). We could go on and on… 
Email marketing allows you to directly connect with guests in a helpful way. 
Creating value for your guests
Adding value to your guests' stay can be done in numerous ways. The tactics you implement in your marketing plan should follow your guest journey and bring value at every touchpoint.  
Here are 3 ways to boost your marketing with your staycation guests: 
1.Building a warm relationship
Hospitality definition is: 'the quality or disposition of receiving and treating guests and strangers in a warm, friendly, generous way'. What would be a better way than personalising your email marketing? Emails with personalised subject lines generate 50% higher open rates (Yes Lifecycle Marketing, 2019). Going a step further, personalisation can take the form of personalised upselling offers.  
For example, a group of friends staying for a hen party might be interested in a Cocktail Master class, a spa & fizz afternoon or a pottery class in your gardens. 
2.Nurturing throughout the journey holistically and efficiently
Email marketing is scalable and there are ways to make it easy for you to create, schedule, track and adjust your campaigns without spending day and night on it. 
Say hello to automation! Automation allows you to set up workflows that automatically send emails (or other marketing tasks) and can be triggered by time or actions. You can also craft different narratives depending on your guests' interactions. 
We would recommend making your email marketing sequences simple, and then as you measure the success of your campaigns you can work deeper into more complex automated sequences. 
Let's take the hen party example again. Here is a simplified overview of a pre-stay upsell email sequence: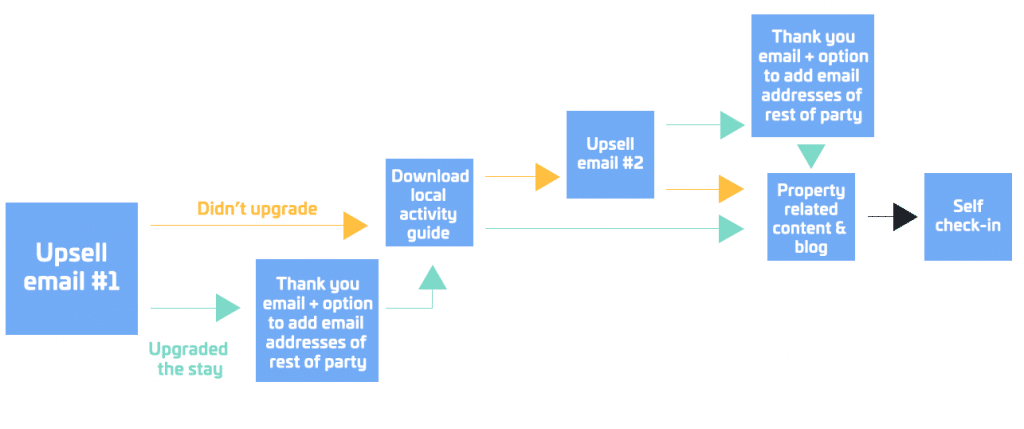 3.Use your data to spot guest segments
Within your staycation group, you can identify smaller groups of guests sharing similar characteristics – making them more likely to expect similar experiences. Smaller groups does not mean smaller results, a very specific demand can drive recurring bookings, high spending revenue…  
How do you segment your contacts? The data you observe in your CRM allows you to capture a similar profile of domestic guests and create segments. Segmentation can be used to analyse behaviour and help you create better-marketing campaigns. 
E.g. Within your staycationers segment/group there are two smaller segments, one for friends and one for families. You may choose to promote local activities such as minigolf or a waterpark to the family segment and nightlife events to the friends segment. 
Re-engaging with 2021
Finally, you can apply all of the above advice when designing and setting up your re-engagement campaigns to target your staycation guests from last year. Using the data you have collected, you can truly personalise your message and encourage them to come back for a new wonderful time at your property! 
The staycation market is here to stay, and personalisation, automation and segmentation are the powerful marketing tools that you need to take full advantage of it. If you want to learn more about For-Sight's CRM and Marketing solutions, contact us here – our team will be happy to answer your questions and walk you through the platform. 
P.S. If you want to become a hospitality email marketing expert, don't forget to check out our hotel email marketing guide.