Apple's iOS 15 has officially been announced at this year's Apple event, and it has been confirmed that it will be available for users to upgrade to from 20 September 2021.
Apple ramped up their push for privacy of user data in 2020 with the launch of iOS 14, with iOS 15 taking things one step further.
This article focuses on the privacy changes in iOS 15 relating to email marketing, and why this isn't necessarily a negative change for email marketing, but rather represents an opportunity for the hospitality industry to focus on delivering personalised communications, that offer real value, driven by first party data.
We also look at some changes you can make to help mitigate the impact of these changes on your ongoing marketing activities.
So what's new in iOS 15?
Privacy features in iOS 15
Mail Privacy Protection (Free): According to reports from Litmus, those with early access to iOS 15, and other tech journalists, Apple Mail will allow users to opt in to mail privacy features that mask IP addresses and block third parties from tracking email opens or other IP data.
iCloud+ (Subscription): An iCloud subscription with additional privacy features including a VPN-like Private Relay feature, which prevents sites from tracking Safari users who opt-in and allows users to see which websites they're sending information to.
Hide My Email (within iCloud+): An email address-cloaking feature that enables users to give sites a "fake" email address. While promotional emails sent from the brand to the fake address will still go to someone's inbox and shouldn't impact important communication, brands will not be able to see the person's real address unless the contact shares it.
While pickup of the paid features is an unknown at this stage (due to associated costs) Mail Privacy Protection will be available to all, free.
So far, all Apple has said about this feature is, "In the Mail app, Mail Privacy Protection stops senders from using invisible pixels to collect information about the user. The new feature helps users prevent senders from knowing when they open an email and masks their IP address so it can't be linked to other online activity or used to determine their location."
Beta tests have shown that despite no confirmation from Apple that it will be opt-in, or opt-out that opening the Mail app after the iOS 15 update will show the below prompt;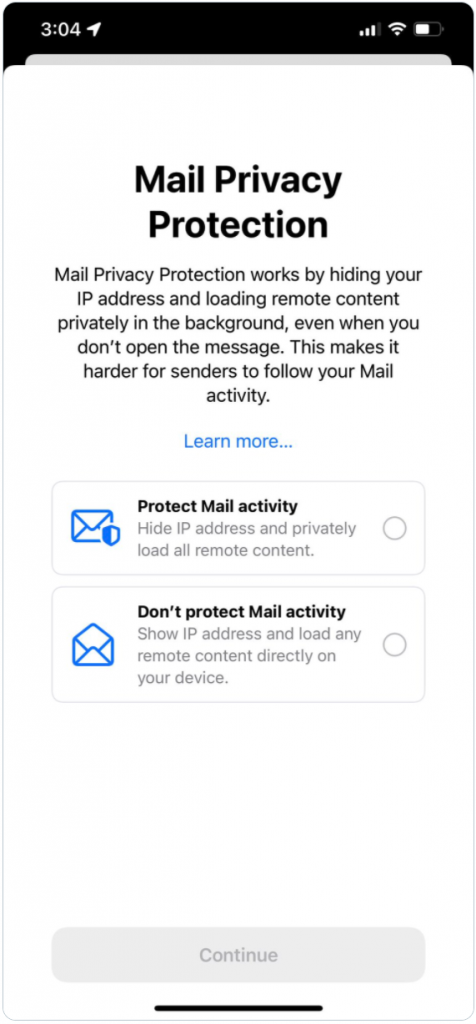 Impact on Email Marketing
While Apple hasn't elaborated too much on the feature the consensus from Marketing professionals is that it could impact the tracking of open rates and email-based A/B testing.
Although this move seems drastic, it follows a trend – iOS 14.5 introduced the ability to limit app tracking by requiring an opt-in and Google has been building out its Privacy Sandbox in preparation for phase out of third party cookies in 2022.
For the consumer
Consumers get to be in charge of the data they share.
Limits the market for tracking and selling of personal data by large corporations, which delivered them an advantage over smaller businesses and (potentially) limited consumer choice.
For businesses
Each brand will need to get better at building trusted relationships with their audiences.
Consumers want both privacy and personalisation. They still want content that is targeted and relevant messaging.
Given these changes, email marketers will likely need to focus even more on creating relevant content that drives action, instead of experimenting with headline focus.
Personalisation isn't going away, conversion optimisation isn't going away, A/B testing isn't going away. They all, however, will need to be focused on building deeper relationships and more meaningful action.
Potential activities impacted
Retention and re-engagement automation that depends on open rates as an engagement metric – consider updating this to a different engagement metric
Segmentation based on engagement, including conditional splits by opens will need to adjust – click rate likely to be a better metric
IP-based geo-segmentation will also be useless if users aren't showing true IP addresses
General points for negating impact of the changes for email marketing
The change won't impact all email readers
Apple Mail on Apple devices make up 38.9% of the market share (Q1 2021 Litmus). Google, Outlook and others have (yet) to announce similar privacy measures.
You can still get good data for the time being on open rates due to this.
Adjust open-rate goals
Open rate goals will likely need to lower, or pivot, to determine what new low, average and high open rates are.
Tracking for a month or so after iOS 15 launch will help determine new averages
Build a first-party data structure
Build a first-party data structure to create customer profiles through their entire lifecycle.

Create website and email engagements that encourage users to take actions that build your first party data
Leverage that data through profiles, for better personalisation and targeting and increased engagement

Provide value in exchange for handover of first party data (incentives to consumer etc.)
Leverage expertise with content marketing initiatives (gated content can provide additional first party data collection)
Refocus your KPI / metrics
Focus on clicks and click-through rates; High clicks or click-throughs can hint that your content was very engaging while lower clicks or click-throughs could hint that readers were less interested or skimming through your email.
Expand engagement-based marketing segments to include clicks and purchase activity
Unsubscribe rates:While these usually don't vary much, a spiked unsubscribe rate could indicate that an aspect of your email strategy (such as the content you sent or the frequency of emails) caused you to lose more audience members than usual. Meanwhile, a consistently low unsubscribe rate hints that you're continuing to retain or even gain subscribers.
CRM platforms powered by first party data hold the key
CRM platforms, such as For-Sight, collect, store and manage all first party guest data (online and offline) – cleansed and de-duped to provide a single source of truth. They allow you to see first party data 'gaps' so you can attempt to correct these / fill in the blanks (converting those OTA masked email addresses to actionable addresses, for example). They also can let you undertake geo-targeting based on first party address data, rather than relying on geo-targeting tracking which is more likely to be impacted by privacy changes. 
Your CRM's actionable first party data can be used in operations, as well as email marketing personalisation, to enhance the guest experience. A better experience is likely to increase engagement with brand content in the future.
For-Sight offers the ability to see Recency, Frequency and Monetary (RFM) values for your guests, along with their preferences and previous engagement and activity data which can add real depth to personalisation of pre, during and post stay marketing & email marketing.
Leverage the first party data in your CRM to create offers, promotions, and content for specific target segments (at scale) to increase engagement and conversion rates.
Don't have a CRM system in place, or would like to learn more about how For-Sight can help you deliver a first party data driven approach to guest engagement and marketing? Get in touch with one of our experts today.